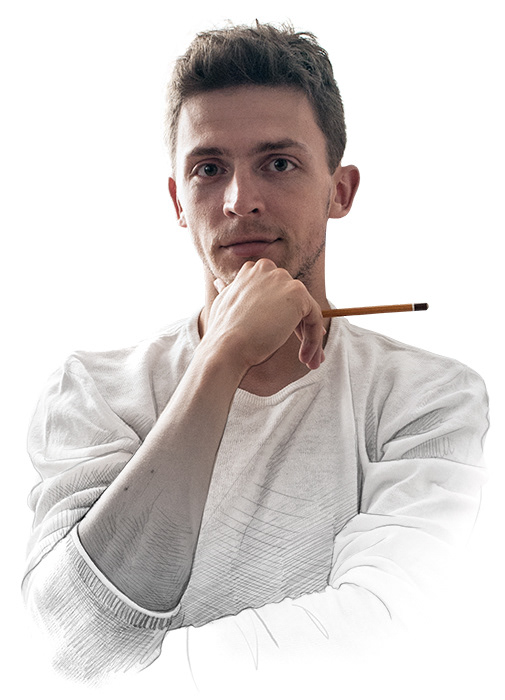 I'm Bartek, graphic designer from Wroclaw, Poland. I was born in 1989 and raised in Gluszyca, small town in the mountain near the border with Czech Republic.
In 2008-2013 I studied at the
Faculty of Graphic Arts and Media Art
in
Academy of Fine Arts in Wroclaw
.
I graduated in the
Studio of Graphic Design
, conducted by prof.
Jan Jaromir Aleksiun
and ass't.
Joanna Skrzypiec
, and in the
Studio of Intaglio & Relief Printing
, under the direction of prof.
Anna Janusz-Strzyz
and ass't.
Mariusz Gorzelak
.
Since 2013 i worked in several companies in Wroclaw, such as
Exence S.A.
,
Nicety Design
and
Royal Brand PR
.
I made ads, graphics for games, layouts for websites and apps, logos, icons, and printed publications. Currently I work as a freelancer, mostly in Photoshop, Illustrator and InDesign. During my studies I worked also as a portrait artist.
I like meaty, spicy meals, extremely hoppy beer, earl grey tea, sunny weather and long sleeping, books of Stanislaw Lem, Joseph Heller and Waldemar Lysiak, and movies of Coen brothers, Christopher Nolan, David Fincher and Quentin Tarantino. I regularly play volleyball and dream about exotic mountaineering expeditions, but my greatest passion is progressive rock and metal music and everything associated with it. From discovering new records and going to live shows, to developing guitar skills, composing, recording, mixing and mastering my own stuff, which soon will be avaliable to listen to on this very website.
Now hurry up, go see my gallery and quickly, with your jaw still dropped, mail me and offer an insanely well paid job.
...or at least some single work to do:)